Everyelsewhere EP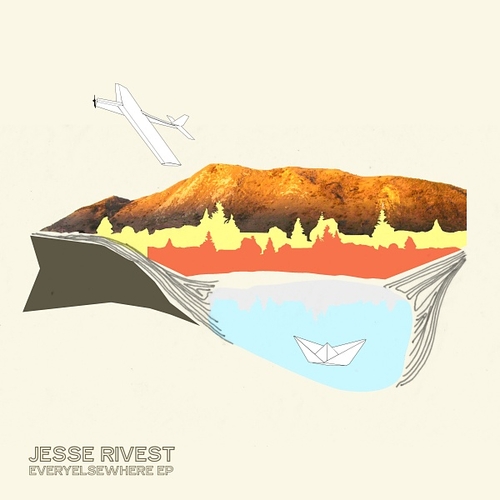 Prerelease note
To be released on February 1, 2011.
Words from Jesse
Everyelsewhere EP is nearly completely New Zealand made; you have to consider that I am Canadian and most of these songs started in Canada. For the past few years I've wanted to release some music in NZ; at last, I was ready and something came together with this group of fine folks—the people involved in this EP—and to them I am grateful for their time, energy, and friendship. A few favourite moments along the way were the times shared with them: Brendan, Peter and I cooling our nerves during recording with delicious scotch and baked goodies; Stu and I facing each other and rocking out with headphones in my room; Warwick and I wiring tracks through cool analog gear; Declan and I listening and mastering in supreme hi-fi delight in secret hideaways. These songs have been around for some time now; for me this EP is about the process of producing music and working with others. Three of the songs were recorded in live takes while two were studio developments; the compilation celebrates my ongoing development as a musician, songwriter, and producer of music.
Track listing
The Romance of Kaslo (4:53)
US-CGH-11-15607 - © Jesse Rivest 2006 *
Greyhound Through The Rockies (5:46)
US-CGH-11-15608 - © Jesse Rivest 2008 *
My Ticket Home (4:35)
US-CGH-11-15609 - © Jesse Rivest 2010 +
Down Again (4:43/5:08)
US-CGH-11-15610 - © Jesse Rivest 2008 *
Take It or Leave It (4:59/6:01)
US-CGH-11-15611 - © Jesse Rivest 2010 *
* originally released at Jesse Rivest Podcast on year indicated
+ originally released on Live At The Mussel Inn - Feb 19 2010
These ISRCs were generated by CD Baby (distributor) rather than www.jesserivest.com.
This recording: catalog number JRIVEST03, © Jesse Rivest 2011, All Rights Reserved
UPC/EAN: 0885767504899
Released: February 1, 2011
Credits
Track 1: Jesse Rivest (JR) guitars, vocals, mandolin, drum programming; Stu Pedley (SP) bass; Fiona Smythe (FS) violin
Track 2: JR guitars, vocals; Brendan Schenk (BS) accordion; Peter Cogswell (PC) neat-o percussion; SP bass
Track 3: JR guitars, vocals; BS banjo; PC neat-o percussion
Track 4: JR guitars, vocals, elec-gat-organ, mandolin, kalimba; BS accordion
Track 5: JR guitar, vocals; BS mandolin; PC neat-o percussion, harmonica
Recorded and edited by Jesse Rivest.
Additional engineering (vocals on Track 1) by Zhenya Topov and James Dunlop at The Blue Room Studio.
Recorded live at Carol and Peter's house in Wellington (except electric guitar and bass on Track 2, which was an additional live recording, bedroom-styles) (except Tracks 1 and 4, which were recorded piece-wise, pretty much everywhere in Wellington).
Mixed by Warwick Donald and Jesse Rivest.
Mastered by Jesse Rivest with Declan Bailey.
Design and layout by Holly Beals.
Special Thanks
Thanks to the musicians and production contributors for their skill, talent, time, and passion.
Thanks to Declan Bailey, Zhenya Topov, Stu Pedley, and Lee Prebble for lending equipment.
Thanks to Tessa Rain for helping shape songs (Tracks 1 and 4).
Thanks to Niels Gedge for the long-term loan of his mandolin (Track 4).
Thanks to everyone above for their friendship and support!
Thanks to the linux and open source communities—"55 20 52 4F 43 4B".
Thanks to you for listening, caring, and for involving yourself in independent music.
Extras
Back cover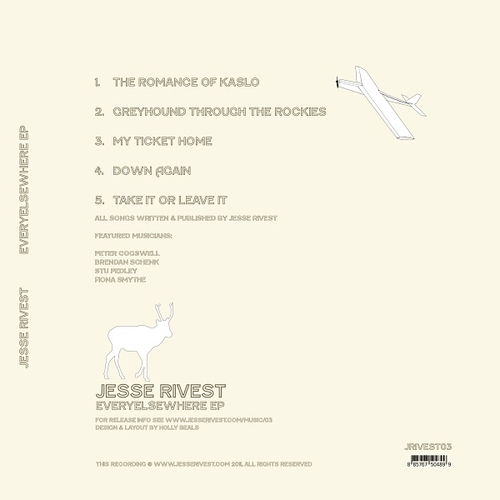 Posters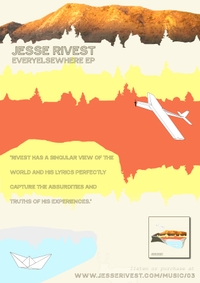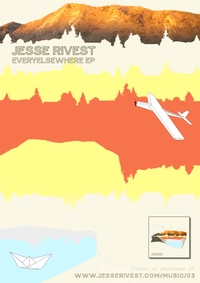 Lyrics
The Romance of Kaslo
© Jesse Rivest, 2006
Smoky orange light distant flaming trees
Smoky orange light on the hazy breeze
Smoky orange light distant flaming trees
It's the breath of the BC sun
Music in the bay dancing in the sand
Music in the bay where the mountains stand
Music in the bay dancing in the sand
Under stars and a silhouette moon
Under stars and a silhouette moon
Crooked Cafe makes a great big sound
Crooked Cafe spread the word around
Crooked Cafe makes a great big sound
Yes I will return one day
Sleeping under stars in the man's back yard
Sleeping under stars isn't very hard
Sleeping under stars in the man's back yard
Hold on to the one you love
You better hold on to the one you love
Olive oil skin and a birch bark dress
Olive oil skin and my heart's a mess
Olive oil skin and a birch bark dress
Girl I'd like to be with you
On the side of the road not too far from town
On the side of the road want to turn around
On the side of the road and I'm all broke down
I'm leaving against my will
I have not yet had my fill
I'm leaving against my will
I have not yet had my fill
Olive oil skin and a birch bark dress
Olive oil skin and my heart's a mess
Greyhound Through the Rockies
© Jesse Rivest, 2008
I'll miss these trees again
Before the mountains at the summer's end
Yellow freckles in the Earth's green skin
Change it frees us of our regrets and sins
The highway swirls in Earth kaleidoscope
The train tracks climb a most gentle slope
Cars are passing as a I set afoot
One after the other will I escape for good
Follow a stream until it turns to snow
Follow a dream that lets you down so slow
Climb a ridge up to the autumn sky
I pushed on how I really tried
And I tried, and I tried, oh I tried
On the bus moving down the road
To some places I said I'd go
I won't be back until I feel I'm done
Don't I know I'm the I'm the selfish one
And in review I will miss you
While I'm gone
But it won't be long
Yes it's true I will miss you
While I'm gone
But it won't be long
No it won't be long
No it won't be long
I will miss you while I'm gone
My Ticket Home
© Jesse Rivest, 2010
She met me out at quiz night
We talked of here and home
Her chocolate truffle eyes could do me harm
She spoke to me in Hebrew
I thought of her in rhymes
And when we left we parted at the door
But oh I wanted more
She's my ticket home
She's everything I've missed
Memories flash by me now that she's my ticket home
She's stuck again on milkshakes
And those classic cruising cars
Her hair turns with her skirt when she floats by
I'm a tragic minimalist
Doesn't get me very far
I bake for her tartes aux poires Bourdaloue
Dans sa rue
She's my ticket home
She's everything I've missed
Her laughter rips the map out of my hands when she blows by
She's my ticket home
She's everything I've missed
I'll taste those dusty roads again 'cause
She's my ticket home
Hold on seasons dropping in so fast
I dreamed a house of perfect viewing glass
Now I call her from the west coast
Say the winters here are mild
But they don't have those windy city charms
She's a drifter with her theories
Her philosophies run wild
Now who could tame an ocean from its side
I think I'll take a dive
She's my ticket home
She's everything I've missed
Her laughter rips the map out of my hands when she blows by
She's my ticket home
She's everything I've missed
I'll taste those dusty roads again 'cause
She's my ticket home
I'll sing my style of song again 'cause
She's my ticket home
Down Again
© Jesse Rivest, 2008
I moped around this town looking for a spark
In spite of the sun I was in the dark
Loneliness and cowardice are two sad states of mind
Happiness could be now just leave the past behind
Oh I'm down again
I've picked up before
I bought a ticket for a bus ride out of town
I couldn't thumb a ride crawling on the ground
Everybody else seems to have their lives all figured out
While I follow a map of the sewers in a city of doubt
Oh I'm lost again
I've been found before
And I am a truth seeker
Begging at your door
And oh I'm old again
I've been young before
And I am a silhouette
Fading from your door
And I feel like a cigarette
Stomped out on the floor
And I am a shipwreck
Sunken off your shore
Sunken off your shore
Take It or Leave It
© Jesse Rivest, 2010
They said you can stay
Only if you pay
Not just your money
We want your days
So take it or leave it
She said you should stay
Only if you want
These are different stars
They can be your stars
So take them or leave them
Well I can't sing my way out of this one
Stuck in my own divide
With my broken stride
Who will harmonize with me
It's been a lonely time just me
When will I realize just where I wanna be
So take it or leave it
Well there's no moon quite like a new moon
Well there's no moon quite like a new moon
Drawing out its encore
While stars silently roar
I've got a backstage pass
Behind the curtains we laugh
And if the rain drops fall will they miss me at all
So take it or leave it
She said you should stay
Only if you want
These are different stars
They can be your stars
So take them or leave them
Well I stayed
So take it or leave it
Well I stayed