The D.G.B. EP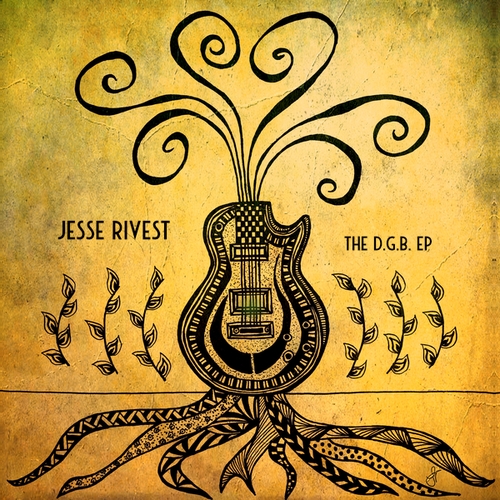 Prerelease note
To be released on April 30, 2020.
The musicbrainz.org edits made on April 14 & 21, 2020, are authorized.
Words from Jesse
Some time after moving from New Zealand to Brazil in 2013, I decided to study music at the public School of Music of the Federal District. There, I made some new friends to team up with for a project. We started with a rendition of At Last (well known via Etta James) and posted that to Youtube. We then talked of doing something more; I looked through my repertoire of originals and saw some potential songs that hadn't yet been released as studio recordings. After a couple preproduction jams we had some exciting direction to follow for four songs—an EP was underway. We recorded the drums and bass together over top of full-band guide tracks that we had made. We then recorded the two guitars together over top of the new drums and bass. The result is an indie rock/pop sort of production, with melodies and lyrics straddling both rock and alt-country while ultimately not falling far from singer-songwriter pop. If that makes any sense? And some Brazilian rhythms from maracatu and axé music carry a couple of the songs to places they had never been before. The songs themselves, though, are really a product of my time living in New Zealand. I hope you enjoy!
Track listing
Thought He'd Ask for a Dollar (4:16)
CA-6P8-20-00001 - © Jesse Rivest 2010
Same as You (4:32)
CA-6P8-20-00002 - © Jesse Rivest 2010
The Igloo Song (4:52)
CA-6P8-20-00003 - © Jesse Rivest 2015
New Trail Old Times (5:16)
CA-6P8-20-00004 - © Jesse Rivest 2010
This recording: catalog number JRIVEST04, © Jesse Rivest 2020, All Rights Reserved
UPC/EAN: 0193428770843
Released: April 30, 2020
Credits
Produced by Jesse Rivest and Dan Rodrigues.
Recorded by Jesse Rivest at Studio Quentinet and Over Home Studio; additional guitar and bass reamps recorded by Jesse Rivest with Gustavo Halfeld at Casacájá.
Mixed and mastered by Jesse Rivest.
Songs written and sung by Jesse Rivest.
Lead electric guitars played by Dan Rodrigues.
Rhythm electric guitars played by Jesse Rivest.
Bass electric guitar played by Júnior Limeira.
Drums played by Du Andrade.
Clapping/palmas in Thought He'd Ask for a Dollar performed by Jesse Rivest, Dan Rodrigues and Du Andrade.
Vocal chorus in Same as You by Jesse Rivest, Jane Lino, Ayla Gresta, Caroline Bessoni, Dan Rodrigues and Du Andrade.
Shakers in Thought He'd Ask for a Dollar performed by Jesse Rivest.
Slide electric guitar in Same as You by Jesse Rivest.
Cajon (clean plus crunchy snow) in The Igloo Song by Du Andrade.
Synthesized vibraphone and other sounds in The Igloo Song by Jesse Rivest.
Album cover artwork by Judy Tailer.
Album cover layout by Jesse Rivest.

Special Thanks
Thanks to Jane Lino and to my Mom for being there for/with me through the process.
Thanks to New Zealand; thanks to Kyle "te Kiwi" Mulinder and whanau, and to all my friends there; these songs were written in your wonderful little country, except The Igloo Song, which I finished in Brazil.
Thanks to Gustavo Halfeld for our many talks about audio engineering.
Thanks to Misael Barros for his advice and ears.
Thanks to Samir Júnior at Over Home Studio for his space and time.
Thanks to Dan, Du and Júnior for patiently persisting this project to its end with me.

Extras
Back cover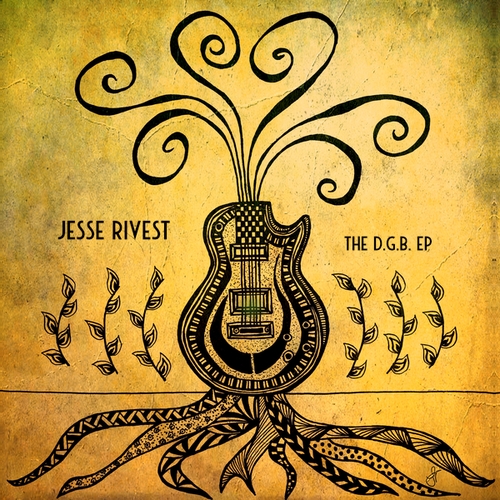 One sheet
Lyrics
Thought He'd Ask Me for a Dollar
© Jesse Rivest, 2010
Are you going to India? he asked
I thought he'd ask me for a dollar
Standing at the airport in a mismatched suit and tie
He's not asking for our money; he's not begging for a ride
He says please can I come with you; would you help me board a plane?
Would you show me to a hotel room in a country far away?
Are you going to Syria? he asked
I thought he'd ask for their spare dimes
He said he's never really travelled—a poor blind man his long life
Now he's fallen into some money and he has a world of time
He wants to smell a different ocean; feel the bark of unknown trees
Get dizzy in foreign tongues and use his own to taste new beers
Are you going to Monaco?
<instrumental>
Are you going to... anywhere's fine with me
I won't see it but I just wanna be... just wanna be there!
I thought he'd ask me for a dollar
I thought he'd ask for their spare dimes
I thought he'd ask me for a dollar
I said I can't afford my time
I thought he'd ask me for a dollar
I might go back and change my mind
Same as You
© Jesse Rivest, 2010
I thought of you on your birthday
You might have turned fifty-six
On a barstool next to Tom Farmer
With your eye on Lucy Glide
Well you were lonely and abandoned
A dreamer through and through
But a homesteader needs a family
You don't like to sleep alone
I was in another long talk
With the girl I loved to love
About priorities and commitments
Oh man, I was letting her down
As she got up and left the room
I saw my stepmom leaving you
I sat and wondered what it was you did
Or what it was you couldn't give
I was scared I'd be the same as you
I thought of you on your birthday
I'm sure my half-brothers did, too
And after twenty-five years together
I hear my stepmom resents you
I was in another long good-bye
With the girl I loved to love
She wanted answers I thought I had
I wanted freedom most of all
As I closed the door behind her
I saw your family leaving you
I stood and wondered what it was you did
Or what it was you couldn't give
I was scared I'd be the same as you
<instrumental>
As she got up and left the room
I saw my stepmom leaving you
I sat and wondered what it was you did
Or what it was you couldn't give
As I closed the door behind her
I saw your family leaving you
I stood and wondered what it was you did
Or what it was you couldn't give
I was scared I'd be the same as you
I was scared I'd be the same as you
The Igloo Song
© Jesse Rivest, 2015
You're a mason in this autumn light
And I've chopped wood to stoke your fire bright
Putting covers on the bed with hibernation in your head
And Orion's jewels at your bedside
Now come pass these winter days and see
How a snowman lives eccentrically
Here's hot whiskey for your toes and your maraschino nose
We'll hang icicles on our fir trees
We'll keep warm here as these blizzards blast
Though you're used to brick and double glass
It's a miracle of ice—the muffled crunch of sacrifice
We'll forget about the world so fast
I built this house of ice and snow
When the birdsong comes I'll have to go
See these sculptures of our glistening dreams
Melt away with tears of yesterday
I built this house of ice and now
It's the only way I've ever known
Now our thawing hopes and crystal dreams
Are just fleeting streams of yesterday
Now you're dusting all the drawers and shelves
Here's some space if you'll just help yourself
Pulling covers from the bed with spring cleaning in the head
And the winds are drifting something else
I build this house of ice and snow
It's the only way I've ever known
See these sculptures of our glistening dreams
Melt away with tears of yesterday
Now our thawing hopes and crystal dreams
Are just fleeting streams of yesterday
New Trail Old Times
© Jesse Rivest, 2010
Stay on the left of the line
This driving is falling through time
I've never felt so alone as I do right now
A map couldn't say where I'm headed
But Sexsmith is singing through the stereo
And something good will come of this sun-flecked West Coast stray
I don't wanna ruin your good time
You don't wanna follow my line
But we'll go and blaze a new trail like old times
<instrumental>
I got your text in Franz Josef
I left my thoughts littered on the roadside
And every mile ahead's somewhere I've never been
Maybe Wanaka's gonna save me
Maybe you just wanted to float free
We'll pass each other as we're both going the same way
I don't wanna ruin your good time
You don't wanna follow my line
But we'll go and blaze a new trail like old times
I've gotta feeling this will be the last time and
You and I will see the views from each other's sides
And we'll go and blaze a new trail like old times
<instrumental>
I don't wanna ruin your good time
You don't wanna follow my line
But we'll go and blaze a new trail like old times
I've gotta feeling this will be the last time and
You and I will see the views from each other's sides
And we'll go and blaze a new trail like old times