Summer Grace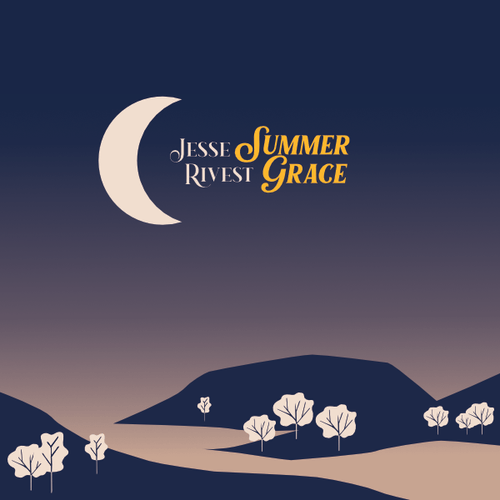 Prerelease note
To be released on August 19, 2021.
Words from Jesse
Here's another song I wrote while living in Wellington, New Zealand. I was specifically living in Island Bay in a house up the hillside; I would sit out on the deck and close my eyes to the great view and imagine a scene set in the Okanagan Valley in Canada. I think this story was a longing for home and its summer, with a bit of romance thrown in for good measure. I recorded a demo of it on a little recorder and gave it to my friend Kyle te Kiwi, but that was as far as I went with it. I think he liked it; I think I liked it, too. I have always performed it since; it just never made it to an official recording. Until now.
After I improved the acoustics a bit in my Little Bakery Studio, I played with the idea of recording a double-tracked performance of the song; just me and the guitar. However, I couldn't do the second take while listening to the first take—too distracting and unnatural to play along with! So, I just played the second take blindly to the click track. I was impressed with how similar the two takes were—it was clear that my body had muscle memory of playing and singing this song. It was good enough for me; this would be the base of the song. From there I added some bass via piano and some electric guitar in the choruses. Then some Hammond B3, then some percussion. My partner, Jane, gave it a listen and felt it needed a little extra something to accompany me earlier on in the track; I came up with some distant piano counterpoint. That was it! Then some mixing, which took a while.
Like the previously released song, Silent, this song has some grammatical issues which I will mark up to poetic license. I recorded it pretty much as it originally was written; I don't think much changed along the years. I hope you enjoy it.
Track listing
Summer Grace (5:06)
T9012818949 - © Jesse Rivest 2008 (SOCAN/BMI, CMRRA)
CA-6P8-21-00002 - © Jesse Rivest 2021 (PPL)
This recording: catalog number JRIVEST06, © Jesse Rivest 2021, All Rights Reserved
UPC/EAN: 0195999467146
Released: August 19, 2021
Credits
Produced, recorded, mixed, and mastered by Jesse Rivest at his Little Bakery Studio in Brasilia, DF, Brazil.
Song written and sung by Jesse Rivest.
Acoustic guitar and electric guitar played by Jesse Rivest.
Programming of drums, synth pianos, and synth Hammond B3 by Jesse Rivest.
Album cover artwork by Lucas Pacífico.
Album cover layout by Jesse Rivest.

Special Thanks
Thanks to Jane Lino for being supportive, always.
Extras
Back cover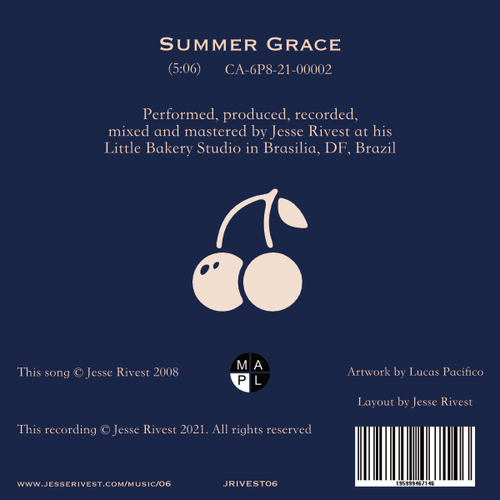 Video
Lyrics
Summer Grace
© Jesse Rivest, 2008
When they passed by that hot July
The blossoms were long ago fell
And then by moonlight they kept out of sight
And stole those cherries well
Once at lakeside the moon did hide
Long enough to reveal enough
And as they dried they lay side by side
And dined on cherries in the buff
Yeah they dined on cherries in the buff
She woke with a smile on her face
The lake and the sky had switched places
And the moon, it was diving with grace
By mornings gone, the days drove on
And the nights repeats of the last
They left no trail, just a secret tail
Of the summer that the stone fruit crops were taxed
Yeah the summer that the stone fruit crops were taxed
He woke with a smile on his face
The lake and the sky had switched places
And the moon, it was diving
While the stars, they were shining with grace
She woke with a smile on her face
The lake and the sky had switched places
And the moon, it was diving
While the stars, they were shining
And their lives, they were thriving with grace