The Christmas Song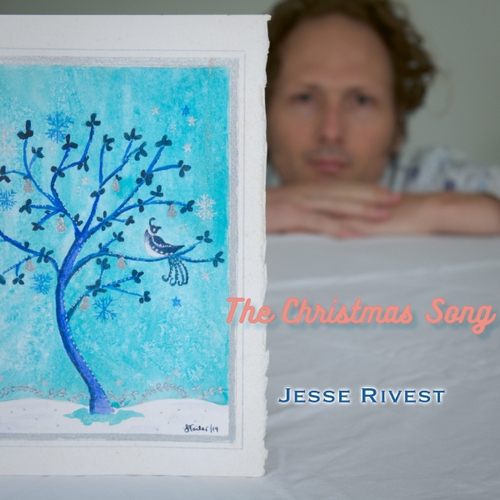 Prerelease note
To be released on December 16, 2021.
Words from Jesse
My second recorded and released cover song! For many, many years I've felt admiration for the late Nat King Cole's amazing singing and voice. I even went a while using Unforgettable as a warm-up song when practicing singing; more recently I've been using The Christmas Song. Why not record and release it, now that I've figured out how to release cover songs? I must of course nod to one of the songwriters—another stunning singer—the late Mel Tormé. Love him—I especially like his version of Moonlight Cocktail. Well, here we have me making my own soft crooning effort, as well as having a bit of fun with the harmony of the song. I hope you find it interesting... or even like it.
Track listing
The Christmas Song (3:52)
T0700249611 - © Morris Edwin H & Co Inc (ASCAP), Sony/ATV Tunes LLC (ASCAP) 1945
CA-6P8-21-00005 - © Jesse Rivest 2021 (PPL)
This recording: catalog number JRIVEST08, © Jesse Rivest 2021, All Rights Reserved
UPC/EAN: 0198001574962
Released: December 16, 2021
Credits
Produced, recorded, mixed, and mastered by Jesse Rivest at his Little Bakery Studio in Brasilia, DF, Brazil.
Song sung by Jesse Rivest.
Acoustic and electric guitar played by Jesse Rivest.
Coral harmonies by Jesse Rivest.
Homemade Christmas card pictured by Judy Tailer.
Album cover photograph by Jesse Rivest.
Album cover layout by Jesse Rivest.

Special Thanks
Thanks to Jane Lino for being supportive, always.
Extras
Back cover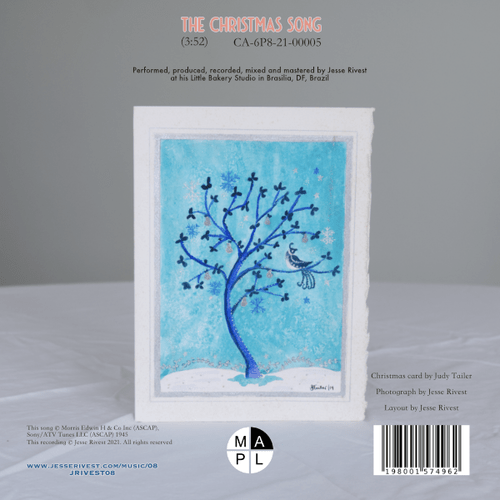 Harmony
2/4 in C. 60 bpm.  INTRO A A B A B A CODA

INTRO
|| IV7sus2   | I/5         | VIm7       |    V7/3             |
 | I(9)      | %           | I69        | %                  ||

A
|| I         | IV7M/9      | VIm7       | IVm7sus2/VI   V7->  |
 | VIm       | subV7->V7-> | VIm7       | subV7/V             |
 | I7M(9)    | IIm7        | IIIm7      | 1. V7#5/7  2. bIIIo |
1| bVI/6     | bVI6   IV6  | V7         | V7                  |
2| I69 IIm7  | VIm7   V7   | I          | I7M               :||

B §
(in F)
|| IV6       | V9          | IV6        | V69                 |
 | IIm       | V7          | I7M        | I6                  |
(in Eb)
 | IV6       | V7          | I7M        | bVII7M              |
(in C)
 | IIm(11)/V | V7/V        | V7         | V7#5               ||

A
|| I         | IV7M/9      | VIm7       | IVm7sus2/VI  V7/V-> |
 | VIm       | subV7->V7-> | VIm7       | subV7/V             |
 | I7M(9)    | IIm7        | IIIm7      | bIIIo               |
 | I69 IIm7  | VIm7   V7   | I          | I7M                ||
                               coda        d.s al coda

CODA
|| subV7/V         | I7M(9)      | V7         | IV7sus2       |
 | V74(13) V7(13)  | I7M/5     |||