Close to Me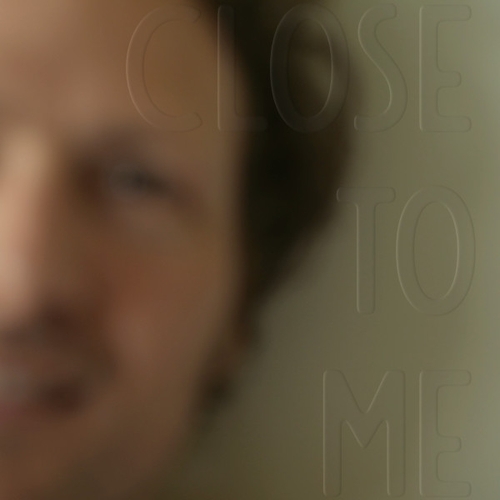 Prerelease note
To be released on March 2, 2023.
(The streaming services may be a while before they have the audio; my distributor rejected my cover art and thus delayed the submission.)
(You can of course listen to it at Bandcamp!)
Words from Jesse
I returned from a one-month trip to my hometown, Kelowna, and knew I wouldn't have anything prepared for an early 2023 single release. I guess the pressure has been on in recent years to keep trickling out music in a regular fashion; I've been aiming for every two or three months. I knew I wouldn't have time to produce anything fancy, so I went through my backlog looking for something simple yet endearing. That's when I found a feeling I had recorded on March 17, 2021, which I had called ascending idea.
Zip back to the present—February 2023 at the time—when I quickly set up a ribbon mic for my guitar and my ETL Edwina for my voice. A couple passes and voila: I now had a warm, intimate recording of a new single, Close to Me. One Sunday morning shortly after, I mounted a 1960's Nikon 50-mm, f-1.4 Nikkor-S lens to my digital film camera; set the filming settings and fixed the focus; and handed the camera over to my partner, Jane, asking her to film me.
"Don't worry about the focus. Start close, pan away, and slowly walk backwards. Take in the scene, then slowly approach me again."
"Ok!"
A little shaky, but she did a great job with great feeling, and the lens did the rest. We hope you enjoy Close to Me; please share it if you do!
Track listing
Close to Me (3:12)
T3180383517 - © Jesse Rivest 2023 (SOCAN/BMI, CMRRA)
CA-6P8-23-00001 - © Jesse Rivest 2023 (PPL)
This recording: catalog number JRIVEST14, © Jesse Rivest 2023, All Rights Reserved
UPC/EAN: 0198009110483
Released: March 2, 2023
Credits
Produced, recorded, mixed, and mastered by Jesse Rivest at his Little Bakery Studio in Brasilia, DF, Brazil.
Song written and performed by Jesse Rivest.
Electric guitar performed by Jesse Rivest.
Album cover photography by Jesse Rivest.
Album cover layout by Jesse Rivest.
Video by Jesse Rivest and Jane Lino.
Special Thanks
Thanks to Jane Lino for being supportive, always.
Thanks to Tico de Moraes for his ears and feedback.
Extras
Back cover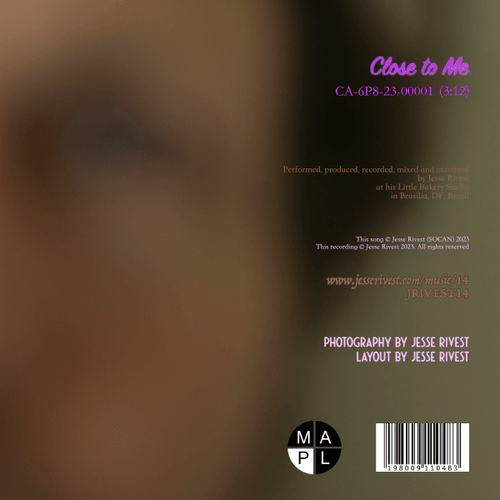 Music video